Blood on the Vine: The Passion Fruit
The fresh acidity of the juice was a regular pleasure of my year-long stay in Dar es Salaam, the Indian Ocean port in the East African nation of Tanzania. On my weekly excursions to Haleeds, an Arabic-Persian hole in the wall restaurant near Dar's Indian quarter, I enjoyed a glass of passion fruit juice with my standard order of moushkaki, spicy chunks of beef barbecued on a grill outside the eatery. The meat came with chapati, the Indian round bread.
I imagined this as my first passion fruit experience. The fruit, I found later, was actually an ingredient in Hawaiian Punch, a favorite drink of my childhood. The large blue can of tropical potion passed for exotica during the barren 1950s.
As the years passed, I began stumbling on passion fruit in my explorations as an ethnic food writer. Cans of the carbonated juice lined coolers in the food shops of the Ironbound, Newark, New Jersey's Portuguese enclave. On my visits there, the Brazilian Bakery on Ferry Street, the main spine of the neighborhood, was one of my first destinations. (A large influx of Brazilians has settled in the neighborhood in recent years.) On my train trip to New Jersey from Washington, I fantasized about the passion fruit milk shake, a specialty of the bakery. The passion fruit mousse in its display case tantalized me.
Play Ball, a Portuguese-owned lunch counter a few blocks up from the bakery, offered its customers an array of tropical fruit drinks ranging from papaya to tamarind. Passion fruit was one of the refreshments that the restaurant made from its storehouse of frozen concentrates.
In Montreal, which has a large Portuguese community, passion fruit was a staple of the drink offerings at my wife, Peggy's, and my favorite barbecue house, Mile End Churrascaria Portugal. Swigging a glass of the fruit drink was a perfect accompaniment to the delightfully charred and spicy peri peri chicken brought from the grill to our table.
Back home in Washington, hip eateries were uncovering the delights of tropical produce. At Rocky's, the late Columbia Road restaurant, chef Paul Petit was turning out jerked shrimp, Caribbean chicken curry, and guava-laced barbecue and creating inventive passion fruit treats. Owner Rocky Scott was attracted to the fruit because of its "tropical" associations. She served up passion fruit iced tea and hurricanes, a blend of its puree and orange, pineapple, and lime juice with doses of rum and triple sec. It infused Rocky's chutneys and added a tingle to the menu's creamy cheese cake.
Near Rocky's, the Brazilian Grill from Ipanema dining room featured a batida, a strong drink made with passion fruit. The cocktail married maracujá (the fruit's Brazilian name) with vodka and cachaça, a sugar cane brandy. A little sugar and condensed milk were added to the cocktail. The drink packed a wallop.
Passion fruit was now in vogue. Bartenders whipped up new drinks with the novel item and smoothies made with the juice were fashionable. I watched aspiring pastry chefs on the Great British Baking Show, the public television program, enhance their productions with its flavor.
Despite my infatuation with the fruit, I knew little of its background. I set out to uncover its mysteries by reading the works of botanists, chefs, anthropologists, and food historians.
The fruit, which I had assumed from my Tanzanian experience was African, actually originated in the Americas. Purple and yellow varieties of the egg-shaped fruit, were the most widely marketed types. Granadilla ("little pomegranate"), the Spanish name used in parts of Latin America, was an allusion to the many brown and black seeds that fill its orange-yellow pulp.
The plant is a climbing vine known as much for its brilliant blooms of white, orange, red, and purple flowers as for its luscious fruit. (Its scientific name is Passiflora.) The ideal setting for the plant is the wildness of the tropical rainforest. Nourished by heat and humidity, it can climb 15 to 20 feet a year. Clinging with its tendrils, the plant pushes its way to the canopy of the forest.
The route to understanding passion fruit led inevitably to Brazil. The vine was native to that country and the surrounding region. From the tribal peoples, the Portuguese settlers learned about the plant's special qualities. The colonists began referring to the fruit with its Indian name, maracujá. As the plant spread, the name stuck, even in Spanish speaking countries like El Salvador and Peru.
Passion fruit later traveled to the mother country. Sweetened with sugar, which began pouring into Portugal from Brazil's plantations in the mid-sixteenth century, it would become an important element in the country's repertoire of sweets. Bakeries marketed passion fruit tarts, puddings, and mousses. Sweet, tart passion fruit juice also gained popularity. Undoubtedly, the Portuguese transported maracujá as they did pineapples, cashews, and other crops, within their empire. It may have reached Mozambique, historian Timothy D. Walker speculates, in Portuguese ships stopping over on their voyage around the Cape. At this East African way station, the fruit might have been helpful in protecting sailors and passengers against scurvy. From there, its journey to Tanzania possibly began.
Initially, it was not as a tangy fruit but as a healing agent that maracujá endeared itself to the Portuguese. The plant, the Indians taught them, worked wonderfully to remedy fevers. European physicians were soon persuaded of its medicinal benefits. From the sixteenth and eighteenth centuries, the Materia Medica of Cambridge University, scholar Geri Augusto points out, listed it as a curative.
In Brazil, it was the Jesuits who, in their missionary work with the native peoples, acquired the early knowledge of medicinal botany. Arriving in the mid-sixteenth century, friars pioneered in collecting information about the properties and uses of tropical plants. Other fruits prized by the Indians joined the maracujá in Portuguese medical lore. The juice of pineapple was praised for its ability to dissolve kidney stones. The fruit of the cashew tree, it was believed, alleviated fevers and stomach ills. (The cashew apple is the red and yellow fruit to which the familiar nuts are attached.)
The Jesuits, historian Walker found, established a network for treating patients with the drugs and for spreading the word about their discoveries. Members of the religious order were permitted to operate as druggists (boticanias), dispensing treatments to the sick. Apothecaries and infirmaries run by the friars were set up in Brazil and other parts of the Portuguese realm. The Jesuits even controlled two of Portugal's major pharmacies. Their shops were well stocked with plant-based remedies like maracujá. The Jesuits, Walker adds, also passed on their learning to Portuguese administrators, naval commanders, merchants, and other officials. Medicinal extracts were sent to Goa, Macao, and other colonial outposts.
The Fathers also profited from their ventures. "Missionary orders relied on revenue from this trade to support their proselytizing work," Williams points out. "The market for colonial medicines in Portugal was largely their exclusive domain for over 200 years."
The Jesuits and other missionaries were convinced that passion fruit was not only a curative for the body but a godsend for the soul. They began calling the plant "passion flower" to evoke the Passion of Christ, his trials and suffering before his death.
Missionaries in Latin America transformed the flowers into religious symbols. In the eyes of the proselytizing Christians, each segment of the flower became an emblem of the crucifixion. Jacomo Bosio, a 17th century monastic scholar working on a treatise in Rome on the Cross of Calvary, popularized the image of a sacred flower. Bosio seized on the drawings and descriptions of a singular flower sent by priests from "New Spain." He wrote that the flower represented Christ's torture. The floral crown with its blood red fringe symbolized the crown of thorns, "the Scourge with which our blessed Lord was tormented." Its 72 filaments represented the exact number of thorns on Christ's head. The three stigmas stood for the three nails on the cross and the stamens for the five wounds Jesus suffered.
Missionaries used the flower in their campaigns to convert the Indians. It was a tool, writer Clara Ines Olaja argues, to teach "the infidel Indian the truculent history of the passion of Christ."
Excited by its symbolism, a party of Jesuits in 1605 honored Pope Paul V with a gift of the plant. They gave the pontiff a sketch of the passion fruit along with dried samples of it. He was enamored of the offering and its fame spread in Italy. "Members of the intelligentsia and ecclesiastic leaders were eager to acquire knowledge of the extraordinary flower," the website of the History of Medicine and Ecclesiastic History notes.
To the clergy, the maracujá was providential. For one Portuguese-born priest, Franciscan Father Antonio de Rosario, the plant represented the plenitude of the New World. Writing in the early eighteenth century, according to scholar Federico Palomo, Rosario viewed it as a blessed offering from God. It was "the flower which the land produced for the glory of the Creator." In the Eden of the Americas, the plant was an auspicious sign to the settlers. It also had more somber overtones. For Rosario, God had designed the "mysterious flower" to reveal "the deplorable tragedy of the Passion."
The passion fruit exerted a powerful hold on the imagination of European writers and artists. In the Natural History of Brazil, authored by the Dutch physician William Piso and the German naturalist Georg Marcgraf and published in 1648, the maracujá is extolled. The first book to introduce the varied plants of the country, Brazilian specialist Amy Buono explains, highlights the dazzling qualities of the flower and fruit: "[T]he coloration of the interior of the flowers produces an iridescence in a broad range of cerulean purples, blooming fully three hours after dawn. The fruits, though, are produced primarily in the rainy, summer months." The writers, Buono continues, were struck by "the black seeds contained within the fruit, and the delicious acidity of the black seeds inside."
Passion fruit could do wonders for one's health, she adds: "The fruit pulp can be used against fevers and can serve as a substitute for 'cordial syrup,' having various remedies, including numbing the teeth, restoring the body from heat exhaustion and thirst, awakening the appetite and guarding against stomach pains."
The Natural History was also careful to emphasize the spiritual qualities of the plant. Even the tendrils, which enabled the passion fruit to climb, had a spiritual purpose. They stood for the whips used to maim Christ.
Painters, scholar Buono observes, were also drawn to the passion fruit. In Mameluca, an oil painting by the Dutchman Albert Eckhout in 1611, its flower plays a central role. The mameluca, a woman of mixed blood stands beneath a caju [cashew] tree. With one hand, she held a basket of flowers among which was a prominent large white passion flower. With her other hand, the mameluca lifts her white gown.
Now a salable commodity, the passion fruit lacks the aura it once had. Sumol, the Portuguese beverage giant, is constantly seeking new outlets for its line of passion fruit and other soda drinks. As sales of its products have declined in Portugal, the company has looked to former colonies in Africa, like Angola, to pick up the slack. Cans and bottles of maracujá in stores from Newark to Luanda are a reminder of the nation's once vast empire and its large diaspora.
Mauritius on My Mind: A Culinary Voyage
Coconut, mint, and lime; birds-eye chili pepper; tomato, shallots, and cilantro; peanuts and tomato. Toussaint Attiave carried a plate with four bowls of these tantalizing dipping sauces to our table on the terrace of his recently opened Montreal restaurant, Aux Îles Bleues ("The Blue Islands").
They were chutneys (chatinis in Creole), he said, traditional starters that whet the appetite for the main meal in Mauritius, his Indian Ocean island birthplace. The chutneys came with a basket of pieces of toasted pita bread. The bread in his homeland, Toussaint added, would have been roti (a generic word in Indian languages for bread, adopted in Creole, the Mauritian tongue).
Toussaint had come to Montreal in 1976 to study engineering. He decided to stay after meeting a "beautiful Quebecoise" woman, Dominique, whom he married. Some of her paintings hang in the dining room, which is painted in shades of blue with red accents.
Passionate about cooking, he opened a restaurant, Café Classico, in the town of Sherbrooke. His new venture in Montreal's Plateau neighborhood highlights the cuisines of the Indian Ocean islands of Seychelles and Réunion and features the food of Mauritius.
The restaurant offers patrons a choice of cooking sauces, which include Creole, Tandoori Masala, and Coco Seychellois, to accompany either seafood, pork, chicken, or other mains. I decided on Mauritian cari, to invigorate squid, shrimp, and scallops. His curry, Toussaint remarked, had a healthy dose of cumin and coriander seed. "Everybody eats curry" in Mauritius, the restaurateur noted.
I was delighted to find a Mauritian restaurant. The volcanic island, 1200 miles off the eastern coast of Africa, had long fascinated me. I fantasized about its rich diversity. Imagine an island over two-thirds of whose population is of Indian background. Indians live with a much smaller group, the Creoles, which traces its origins to Africa, as well as with a community of Chinese. What kind of food, I wondered, would spring from this heterogeneity?
In my Mauritian quest, I bought guidebooks, cookbooks, and historical studies of the island. I searched for Mauritian eateries not only in Canada but also in Marseilles and London. The Indian Ocean island, I discovered, had enchanted many writers. Mark Twain, impressed by its "luxuriance of tropic vegetation," spoke of its many ethnicities: "French, English, Chinese, Arabs, African, East Indians, half-whites, quadroons." He talked to an islander who told him that "Heaven was copied after Mauritius." The French poet Baudelaire, who had been banished to India by his father "to be cured of love," left the boat in Mauritius. He extolled "a perfumed country that the sun caresses." He rhapsodized about "purple trees," palms, that "weep idleness," and "dark enchantresses." Another visitor, Charles Darwin, observed that "the various races of men walking on the streets offer the most interesting spectacle."
---
It was during the year I spent teaching in a refugee school in Dar es Salaam, Tanzania, that the seeds of my enthusiasm for Mauritius were first sown. The East Africa city was part of the same Indian Ocean neighborhood as Mauritius. Dar was a port city along the country's Swahili coast where African, Indians, Arabs, and Persians had all left their imprint. This was not the stereotypical one-dimensional "dark continent" I had expected.
Dar had a large Indian quarter where the Asians lived and sold their wares. One evening, I was treated to a hot curry at the home of an Indian Muslim family, whose son was a friend. The family shop, as was often common, sat below their apartment. Indian food was not foreign to the city's taste. I was surprised to find a local eatery, the Cozy Café, selling samosas.
The Indians had dispersed throughout the country. Traveling outside the city, I noticed the inevitable dukas, their general stores, which sold everything from brooms to dried fish.
I grew restless with the African food served at the school. Lunch was invariably ugali, a dish of mashed up maize with gravy, a kind of Tanzanian fufu but without the spicy sauce. I hungered for more exciting fare. I discovered Haleeds, a small eatery run by an Arabic proprietor. For a few coins, I enjoyed mishkaki, spiced cubes of barbecued beef that were cooked on a small grill outside the shop. It came with chapati, an Indian flat bread. I washed down the meal with a glass of fresh passion fruit juice.
I pursued other adventures. When a fellow teacher married a Punjabi woman, I went to their wedding and was introduced to one of Dar's most vital communities, whose roots went back to the early Sikhs recruited to build a railroad in East Africa.
Surrounded by the Indian Ocean, I was excited to live in a gateway to mysterious lands. Lured by the romance of the port, one evening a friend and I roamed the vast expanse of the docks. Ships regularly left East Africa for India. On a visit to Mombasa, the Kenyan port city, I stared with amazement at a boat in the harbor, whose top deck was packed with Asian families. They would sleep and eat their meals on the deck over the long voyage.
Nearby islands also beckoned. I visited the island of Zanzibar, once a center of the slave trade and the world's top exporter of cloves. As I walked through the harbor, I could smell the aroma of the pungent spice. I explored the narrow streets and gazed at the intricately carved doorways of Zanzibar Town, the capital of an island once ruled by the Sultan of Oman.
I rode out in a taxi to the outskirts of the city. We passed coconut trees whose shells dotted the ground. As we walked outside, I detected the unmistakable fragrance of lemongrass. The driver peeled off the bark of a cinnamon tree to show me.
My appetite for future island trips was whetted. Cruise shops frequently stopped at Dar to pick up passengers who wanted to visit the Indian Ocean islands of Mauritius, Réunion, and the Seychelles. Unfortunately, I missed this opportunity and ever since I have regretted it. I was especially curious about Mauritius and could only imagine its blend of flavors and cultures. Short of a trip there, I would have to make do with a vicarious excursion. Perhaps an outing to a Mauritian restaurant would satisfy my desire.
---
Finding such an exotic eatery was not simple. It would be at least fifteen years before I uncovered one. It was, ironically, in Canada, home to many Mauritian emigrés, not in the U.S., that I reached my culinary destination. Planning an early trip to Toronto, I called the Mauritian embassy in Washington on an impulse to see if the city had any eateries serving the island's food. An official suggested I try Toronto's Blue Bay Café.
One early evening after our arrival in the city, my wife and I embarked on an expedition to find the dining room. We took a trolley car to the end of the Dundas Street line. Looking out the window, I saw signs in Portuguese advertising restaurants, cafés, and other businesses clustered along several blocks. We got off at the last stop and walked from the switching yard through several gritty blocks to the Blue Bay.
We climbed a narrow staircase to a small room, modestly decorated with travel posters. The unusual menu, which transported us to the Indian Ocean world, made up for the lack of atmosphere. It listed samosas among the starters, an early clue to the provenance of the food. I dug into an achard, a pickled salad of cabbage, carrots, and other vegetables. I had encountered variations of the piquant mix in Malaysian, Indonesian, and Thai restaurants—all with similar names. The Creole word, achard, descended from the term for pickled foods in several Indian languages. Achar, the Indian name, likely has a Persian lineage.
The pickled appetizer has wide appeal in Mauritius. It has even entered the island's folklore. An official letter, according to cookbook authors Paul Jones and Barry Andrews, was sent from the island to the Queen. It was returned because of a yellow stain on the envelope. The color probably came from either turmeric or the mustard seeds in the relish.
Another item on the Blue Bay menu, Fish Vindaye, also had an odd backstory. Vindaye, a Creole word, stemmed from an Indian delicacy, vindaloo, created in the Portuguese colony of Goa. The Iberians introduced one of their specialties, vina d'alho, meat steeped in wine vinegar and garlic, to their subjects and the Goans reinvented it. They spiced the dish with saffron, mustard seeds, chili, and other flavorings. Indians took it to Mauritius. "On Maurice the name got 'Frenchified' into 'vin d'ail' and ended up as 'vindaye' in Creole," the Dutch website Coquinaria points out.
Other Blue Bay offerings suggested other histories. The restaurant sometimes prepared daubes, braised chicken or other meats that had a definite French note. The menu's mines frite, a noodle stir fry with shrimp, reflected Chinese technique. The owners, I learned, were of Chinese background, a fact whose significance I did not yet fully grasp.
The Blue Bay, now closed, was an initiation into Mauritian cooking. I still had much to learn. Some years later, on a trip to Montreal, Peggy and I had another Mauritian adventure that was as much performance as culinary experience. After a long trek from the Verdun Metro station in eastern Montreal, through a down-at-the-heels area with many "à louer" ["for rent"] signs, we reached Les Délices de l'île Maurice. We were greeted by a portly gentleman of Chinese background, Sylvestre Ng-Kan, who wore a Hawaiian shirt and Bermuda shorts. The effusive chef, who had trained in Montreal restaurants, showed us a large map of Mauritius and regaled us about his country. The restaurant had little formal menu. Sylvestre asked what kind of sauce we would like—Creole, curry, etc.—and what type of fish or meat. My memory gets hazy then, but I do recall that one of the sauces was redolent of cloves.
Before we could order, we were given a complimentary bowl of tangy yellow split pea soup. It reminded me of dal sorba, the lentil soup that is a fixture of many Indian restaurant menus. But the connection between the soup and the larger mosaic of Mauritian food was still blurry.
Several years later, my wife uncovered a Mauritian restaurant that had recently opened on Montreal's Boulevard St. Laurent, the "Main," as locals called it. The city's main north-south street had once been considered a divide between the French- and English-speaking communities. La Ravanne (named for a Mauritian musical instrument) was located in an area where many ethnic restaurants had sprouted.
One dish at the eatery especially captured my attention. The gâteau piment (chili cake) sounded French, but the taste and the ingredients of the popular Mauritian snack spoke of its tropical parentage. These doughnut-shaped fritters, made from yellow split pea flour, had an Indian feel to them. The crunchy and spicy starters were accompanied by a yogurt salad of cucumbers and carrots. At the time, I thought little of the appetizer. Looking back now, I suspect that it was kin to raita, a similar Indian dish. One other characteristic stood out. The owners of La Ravanne, like those of the Blue Bay and Les Délices, have Chinese roots. (The restaurant, unfortunately, is no longer open.)
---
Intrigued with its food, I gradually learned that its story was inextricably connected to the island's history. Mauritius had been shaped by a succession of invaders and peopled by diverse ethnic groups. It was uninhabited. It had no "aboriginals," Toussaint observes. Its cuisine was the result of the intermingling of cultures. Without a fixed identity, the islands would have to forge their own.
The Portuguese, early voyagers seeking a route to the spice treasures of India, stumbled on Mauritius in 1507. Ship captain Diogo Fernandes Pereira called it the Ilha do Cerne, the Island of Swans. (The island actually had none of these birds.) Except for using it as a refueling stop, Mauritius had little interest for the Portuguese.
The Dutch, also traders, established a more permanent presence. Seizing control in the early sixteenth century, they named the colony Mauritius after Prince Maurice von Nassau, their ruler. The Dutch transplanted sugar from their Indonesian possessions. Although the crop would ultimately flourish and become the foundation of the island's wealth, it provided little in the way of short-term returns; the Dutch grew impatient and moved on.
They stayed long enough to hunt one of the island's few indigenous species into extinction: the ungainly, flightless bird they called the doudou, their word for "stupid" (the creature's name was later changed to dodo). The dodo may have been scorned, but its flesh was nonetheless cooked to fill the bellies of the Dutchmen.
The most influential of the island's occupiers, the French, arrived in 1715. The colonizers turned Mauritius into a bastion of sugar. Rainforests were slashed and replaced by plantations. Cane thrived in the red volcanic soil. Now the governing elite and landowning class renamed the island Ile de France. They imbued the society with their language and culture. Most islanders today speak French, but Creole, a vernacular offshoot of the mother tongue, is the lingua franca.
To cut the cane, till the fields, and process the sugar, the French imported African slaves, mostly from Mozambique and Madagascar. Their descendants and those of mixed race are known as creoles.
Another European power, the British, set its sights on the sugar isle. In 1815, during the Napoleonic Wars, the French lost control of the island to the interlopers. Despite their defeat, the French continued to dominate the sugar industry and to maintain their Gallic culture and Catholic religion.
The English decision to abolish slavery and the slave trade in the early nineteenth century led to a radical change in the island's population. Slaves began to abandon the plantations, creating a severe labor shortage. Sugar, the economic engine of the islands, required new hands. The English turned to their Indian colony for laborers. Just as would happen in Caribbean colonies like Trinidad, indentured workers were shipped in to replace the old workforce. The complexion of Mauritius changed as more than 300,000 Indians poured into the island between 1834 and 1910.
The Indians themselves were a polyglot group. Those from the South carried different traditions than those from the North. The new arrivals also spoke a mélange of languages—Tamil, Telegu, Hindi, Marathi. In addition, a significant number of the Asians, some 15%, were Muslims.
Over the years, many of the once disdained "coolies" lifted themselves up or elevated their children into higher status professional and commercial occupations. The Indian community acquired political clout. When the island gained independence in 1968, Mauritius's first Prime Minister was Seewoosagur Ramgoolam.
Although a small portion of the population, another group of outsiders left their mark on the island. Attracted by economic opportunities, 7,000 Chinese immigrants arrived in Mauritius in just five years, between 1895 and 1900. Some became skilled workers, but the most important group were small businessmen. It was the Chinese who opened retail shops that catered to the Creoles in the small islands and villages. Speaking before the Colonial Assembly in 1885, Governor Sir John Pope-Hennessy argued that the entrepreneurs were indispensable: "We all know that at almost all the crossroads of the island are to be seen the well-built stone residences and shops of the Chinese that have sprung up within the last few years; and those Chinamen undoubtedly manage to sell the poorer classes of this community cheap and simple goods which the poor people wish to buy."
Mostly bachelors in the beginning, the community, organized around clans, expanded with the arrival of family members. The ethnics have built pagodas, launched two daily newspapers, and popularized their culture among the islanders. As Chan Low, a local historian, told writer James Wan:  "Chinese cultural events now see the participation of all kinds of Mauritians. If you go to Chinese shops, you find people of all communities buying Chinese food and goods, and even traditional practices, like the dragon dance, are performed by non-Chinese Mauritians alongside Sino-Mauritians."
---
Melding such a mixture of cultures, ethnicities, and nationalities into one unified society has often been difficult. Relationships, for example, between Creoles and Indians have sometimes been tense. A common language, however, has helped create a common bond. Indians, whose forbears once spoke Bhojpuri may cling to their ancestral tongue but also communicate with the Chinese in Creole.
The varied strands of Mauritian culture have been woven together to form a national identify and a common cuisine. "We take it together and make it our own," Toussaint points out. Different culinary traditions have been "creolized" in the island crucible. The boundaries between different kinds of food have broken down. Indian flavors seep into Creole food and vice versa.
First and foremost, there is the overarching sway of French cuisine, which has lent island cooking a sophistication and flair. The colonists brought metropolitan foods like cheese, wine, and pain maison. French cooking styles have also been remolded. The tomato-based sauce of Provence, for example, has been transformed. To the pomme d'amour, as the Mauritian tomato is known, has been added the bite of chili and the kick of ginger, garlic, and other spices. The classic Mauritian dishes served at Aux Îles Bleues, rougailles, are products of this marriage between French and Creole cooking. The word rougaille came into Creole via the French cooking term roux d'ail (a flour and fat roux infused with garlic).
As spices became more integral to Mauritian cooking, the taste buds of French islanders adapted. One nineteenth century writer, whom authors Jones and Andrews quote, remarks on the change: "They chew nutmeg and chilies as if they were sweets, and their pale features will hardly pink in the inferno of these condiments."
Indian words, slightly adapted, crept into the vocabulary of Mauritian food. Briani, Farata, samoosas, and the aforementioned vindaye are just a few examples of the borrowing. In addition to dishes of Indian origin like cari and khorma, basics of its kitchen like rice and dal (peas and lentils), have been assimilated into the culinary culture. Indian condiments turn up on the tables of other Mauritian ethnics. "Indian pickles are eaten with French dishes and, similarly, Chinese dishes are eaten with Tamil pickles and chutneys," Madeleine and Clancy Philippe note in their cookbook, The Best of Mauritian Cuisine.
Indian cooking itself has undergone a metamorphosis. Caris [curries] may be less fiery and more delicate than their Indian counterparts. Mauritians "tried to make Indian food French," Toussaint suggests. The ethnics have also acquired new tastes. Achard, the pickle-y relish, may sometimes be remade with palmistes or palm hearts. Octopus has joined the repertoire of Indian curries.
Chinese immigrants made their own contributions to island food. A new starch, noodles, caught on with locals; at Aux Îles Bleues, customers can choose between rice and noodles to accompany their main dishes. Mines Frite, stir-fried noodles, lost their ethnic associations and joined the national menu.
The Chinese played a key role as purveyors of Mauritian dishes. They were the first group to open restaurants, Toussaint points out. Chinese eateries, he says, serve up both Chinese and Mauritian offerings.
In all its variety, Mauritian cooking was coming into sharper focus. I continued to pick up revealing details about the food of this "cosmopolitan mix," to use Toussaint's image. For example, the vegetable soup with tart pineapple we were served at Aux Îles Bleues had puzzled us. Peggy and I wondered how it fit into Mauritian cuisine. In a later conversation, Toussaint explained. It was actually a sweet and sour soup inspired by Chinese tradition. There was still much more to explore on the menu. Maybe next time I'll order the octopus cari.
NOTE: Two useful Mauritian cookbooks are:
•    A Taste of Mauritius, by Paul Jones and Barry Andrews.
•    The Best of Mauritian Cuisine, by Madeleine Philippe with Clancy Philippe.
How Sweet It Is: Portugal's Egg Custard Tart
Some years back, my wife, Peggy, and I were on a pilgrimage to Belém (Bethlehem), a district in Lisbon a short distance from the city center—not to visit religious sites, although there were hallowed monuments at our destination. We were heading there to sample the pastel de nata, the country's celebrated egg custard tart, at its most renowned purveyor, the bakery Antiga Confeitaria de Belém. These were not just ordinary pastéis, which are commonplace throughout the city, but pastéis de Belém, pastries reputed to have come from the original recipe.
Belém is the site of the Torre (tower) de Belém, a fortress erected in an imperial age to guard the mouth of the Tagus River. The poet Fernanda Pessoa called the tower "a magnificent stone jewel." This outpost was Portugal's gateway for voyages bound for the East. It was where Vasco da Gama launched his journey to India in 1496 and where other captains embarked in their pursuit of gold and spices. Close to the tower is the impressive monastery, Mosteiros Jerónimos, home to clerics and a resting place where Vasco da Gama and other notables are entombed.
In days past, tourists eager to visit these shrines would climb aboard steamboats at Lisbon's docks to make the trip to Belém. Now, tour buses arrive to bring visitors like us to the Confeiteria. Customers place their orders for tarts, which come to the counter hot from the oven. The pastries are sweet and creamy, with blackened caramelized patches atop the custard. They also have delightfully flaky crusts. Customers can sprinkle cinnamon and powdered sugar on the pastries.
The café has a series of interconnecting rooms decorated with typical Portuguese blue and white tiles where patrons savor their pastéis, often with a galão, coffee with a bit of milk, or a bica, an espresso. The reverent visitors frequently leave with tarts in specially designed paper packages. They are "wrapped in pairs, married one on top of the other," one admirer observes.
An aura of mystery still surrounds these tarts. They are said to be baked "by master confectioners" who tightly guard the secret recipe. The pastel de nata tradition originated with the Monastery, where convent nuns devised a recipe for these temptations and began selling them. Convents and monasteries in the sixteenth and seventeenth centuries were much more than religious institutions. They were also festive places for royal banquets, birthdays, and weddings.
Eggs, whose yolks were central to the making of these custards, were abundant in convent kitchens. Ovos provided a basic protein in the dietary regimen of the religious orders. Chickens, a common sight around the peasant household in Portugal, were a source of currency. They were bartered for meat and other dearer items or simply sold to make money. Convents frequently bought their eggs from the poor.
Eggs remain a mainstay of both sweet and savory Portuguese cooking, writer Andrea Smith points out. They are mixed into many bacalhau (cod) dishes like Bacalhau a Brás, which features salt cod fried with potatoes, onions, and scrambled eggs. Or they may flavor a bread soup, which comes with a poached egg. Even a fried egg, historian Virgilia Nogueiro Gomes notes, could be ennobled: "Frying an egg was an art. It was used with savory food and could be served as a dessert, topped with sugar to make the yolk very creamy. Then we could make little bread soups in the sugar-filled yolk. . . . The difficult part was ensuring that the egg white was well cooked and the yolk was still runny."
The word for fried egg, estrelar, Andrea Smith suggests, may have a celestial association because it is derived from estrela, the word for star. I have speculated, myself, that the term Pastel de Nata may also have Christian overtones. The word nata has its roots in Portuguese words relating to "birth."
The nuns used beaten egg whites in ironing clothing. Priests' robes, nuns' habits and headdresses received this treatment. The many leftover yolks, the story goes, were exploited to make doces conventuais (convent sweets)—puddings, custards, and other sweets. At fairs and other celebrations, nuns vied with each other to prepare the best confections.
The convents were crucibles of pastry creation. The names of sweets reflect their strong religious inheritance. Pão de Deus (god's bread) is a bun with a luxuriant sweet coconut topping. There were other confections called "nuns' tummies," "angels' cheeks," and "bacon from heaven."
Custard tarts were sold at the monastery until the early nineteenth century. The Liberal Revolution of 1820 in Portugal, however, forced the closing of religious institutions. The original pastel de nata recipe, it is said, was bought by a nearby bakery. "Until the nineteenth century, monasteries were Portugal's research, trade, horticultural, and confectionary epicenters, around which rose small businesses," food writer David Leite remarks in his blog, Leite's Culinaria. In the same location, today's Confeiteria carries on the tart-making tradition.
The pastel de nata was transported throughout Portugal's far-flung empire. It arrived in China, India, and Brazil, where the Iberians brought their convent sweets, along with their passion for sugar. The Portuguese, food historian Janet P. Boileau notes, were well known for their tastes: "'There was no nation in the world so fond of sweetmeats as the Portuguese; they always handed them about on their social visits,' the Dutchman Jacobus Canter Visscher wrote while visiting Goa in the 1750s."
The colonists, Boileau points out, offered sweets as gifts to foreign dignitaries. She describes the luxurious array of sweets Vasco da Gama presented to the local king in Malindi, on the coast of Kenya: "When the king was entertained on board da Gama's vessel, the dignitary was conducted to the quarterdeck, where a handsome table had been set out, with gold-embroidered Flemish napkins. He was offered a variety of conserves, confectionery, preserved almonds, olives and marmalade, served in silver dishes and accompanied by wine in gilt vessels."
In former Portuguese colonies, bakers have invented their own version of the egg custard tart. In Macao, an English businessman opened a shop, which he called "Andrew Stow's Coffee and Natas." Lord Stow then franchised his bakery in Hong Kong. The trend has picked up steam. "Egg tart fever hit Hong Kong, Singapore and Taiwan in the late 1990s," Andrea Nguyen writes.
In Portuguese immigrant enclaves abroad, expatriates have also introduced their confections. I remember discovering sweet bread, pão doce, in the old fishing port of New Bedford, Massachusetts. Available in the region's supermarkets, the bread, once reserved for holidays in Portugal, has become a routine treat. (A diner in Fairhaven, across the river from New Bedford, enticed its customers with chouriço—Iberian sausage—omelettes.) On my many excursions to Newark, New Jersey, the second largest Portuguese settlement on the East Coast, I found pastéis de natas and a plethora of other sweets in bakeries, cafes, and restaurants. Sugar seemed to be an important part of Portuguese culture. On an early visit to the Ironbound, Newark's Portuguese neighborhood, I was captivated as Carlos Fernandes, the owner of Play Ball, a local eatery, plunged a 3-foot stalk of sugar cane into a juicer. He then served me a refreshing sugar cane drink known as garapa.
At the time, I hadn't realized how bound up Portugal was with the history of sugar. Conquering Muslims, who had learned the basics of sugar making in Persia and India, first took the crop west to the Middle East and into the Mediterranean. As the late anthropologist Sidney Mintz, the author of the history Sweetness and Power, comments: "sugar … we are told, followed the Koran." The Moors, who gained control of the Iberian Peninsula in 711 A.D., ruled Portugal for five centuries. The occupiers, who planted sugar cane in the Algarve in southern Portugal, communicated their affection for sweets like candied fruits and almond-flavored egg yolk pastries. Before the Portuguese colonized Brazil in the early sixteenth century and started producing sugar for export to Lisbon, the Iberians had schooled themselves in sugar cultivation in their Atlantic colonies off the west coast of Africa—Madeira, the Azores, and São Tomé. The settlers, who were growing cane in Madeira by 1452, transformed the island briefly into the world's largest exporter of sugar. "These islands," Mintz observes, "were the stepping stones by which the [sugar] industry would move from the Old World to the New." On his second voyage, Columbus, who had learned about sugar planting while working in Madeira, introduced cane to the Americas. In 1493, he carried it to the island of Hispaniola (which consists of the present-day countries of Haiti and the Dominican Republic) in 1493 from the Canary Islands (the Spaniards, who had colonized these islands, had also been keen sugar planters).
The pastel de nata enthusiasm continues to spread, even beyond the Portuguese diaspora. In recent years, shops in England have sprung up selling "Portuguese Egg Custard Tarts." Berlin's Café Galão, owned by a German businessman who became acquainted with the Portuguese in Hamburg, is a popular purveyor of custard tarts.
Some promoters of Portuguese foods would like to see them more widely disseminated. The minister of the economy, Álvaro Santos Pereira, highlighted the pastel de nata as an example of the nation's "export potential," the Portuguese Daily View reported. He urged confectioners to expand the global sales of the custard tart. Why was there not a "franchise of pastéis de nata," he asked participants at a conference on competitiveness.
Other devotees of the pastry look more askance at its adoption abroad. Frederico Duarte, a designer who has researched his country's baking industry, believes the custard tart is not easily replicated. The unique qualities of the Portuguese oven explain the pastel de nata's supremacy: "From what they have explained to us, you have to have a furnace that bakes at 400 degrees and you rarely find one that does it abroad," he told Lusa News Agency [the temperature is probably centigrade]. "That's why cream pies abroad are almost always bad." Outside of Portugal, the tart, Duarte says, is a pale imitation of the original. In Macao, he argues, the pastel is "adulterated."
For myself, I can be satisfied with a pastel de nata that is short of perfection. As I prepare for a trip to Montreal, which has a large Portuguese community, and a visit to my favorite bakery, Patisserie Notre Maison, I yearn for their egg custard tarts. They may not be pastéis de Belém, but they're still divine.
"From Pushcart to Posh" — An Appreciation by Joel Denker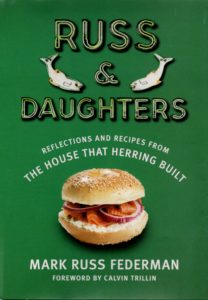 Russ & Daughters: Reflections and Recipes
from the House that Herring Built
By Mark Russ Federman
"I need a whitefish … It should be a nice one … My son, the doctor, is coming over for dinner… We want to introduce him to a nice girl … Her family is very well situated, thank you … Her father's a big shot … Maybe this will work out, please God, and I'll soon be a grandmother … No, don't give me that one from the top. What do I look like? A greenhorn? I want from underneath. No, not that one. The one next to it. No, that one's too dried out. You probably had that one left over from before the Flood … Why don't you go to the back and get me a fresh one?"
Mark Russ Federman, whose grandfather Joel Russ founded Russ & Daughters, the temple to Jewish delicacies and other treats on the Lower East Side, tells this story, a composite of customers he encountered at his shop, as recounted in his book, Russ & Daughters: Reflections and Recipes from the House that Herring Built. The business lures customers with a wide array of products, from herrings, lox, sturgeon, sable, whitefish, and scrumptious salads, to dried fruits, nuts, and traditional sweets like babka, rugelach, and halvah. It has, over the years, introduced candied ginger, apricots, and orange peels as well as Turkish figs, Syrian dates, and Persian pistachios to its display.
Federman ran the store for 30 years (the third generation owner has passed the baton to his daughter Niki and nephew Josh). Federman, who has a gift for humor and gab, is a superb storyteller. His book, which has not received the recognition it deserved, is at once a full-scale portrait of a lively family and a chronicle of the evolution of an ethnic business. As a writer myself, one who has spent several decades trying to unearth similar tales, I was captivated by it. Russ & Daughters is a singular contribution to the history of ethnic food in America. The spicy details Federman offers up along the way make it even more delectable.
The saga of Joel Russ, the store's patriarch, which Mark tells with vivid and enticing anecdotes, is a unique, but also a profoundly American one. He tells the story of his grandfather's journey from the Jewish shtetl in Strzyov, part of an area called Galicia (in today's southeastern Poland). His village was desperately poor, and growing up there was something Joel rarely spoke of. The 21-year-old arrived at Ellis Island on January 19, 1907, where the officials listed his occupation as apprentice baker. Joel had come to help out his oldest sister, Channah, who operated a herring stand with her husband on Hester Street in the Lower East Side. Taken from wooden barrels and wrapped in newspapers—typically The Forverts (Forward) or Der Tog (the Day)—the briny fish was sold to shoppers.
Herring was the mainstay of an important meal: "A poor immigrant would take home and unwrap the herring, put it in a cast-iron skillet with some sliced potatoes and onions, and then cook the dish in a coal-fired stove. With thick slices of black bread or rye or leftover Sabbath challah, this was a meal for an entire family."
Joel moved up and acquired a pushcart—he later drove a horse and wagon. In the meantime, he had seen a matchmaker, who introduced him to his future wife, Bella Spier, also from his Galician homeland. Joel's next steppingstone was a candy store, a cheap investment for many enterprising newcomers. A few years later, he established Russ's Cut Rate Appetizing on Orchard Street. This shop was the parent of today's more modern and sophisticated Russ & Daughters on Houston Street (he enlisted his daughters in running the business). The store is located today at 179 East Houston Street.
Near his old shop were a host of vibrant ethnic enterprises. A dairy store sold farmer's cheese, ladled out milk, and vended tub butter. A deli made pastrami, corned beef, and tongue sandwiches, as well as hot dogs. Seltzer, which could be infused with different flavored syrups, was on offer at a local candy store. A mushroom store, next to the candy shop, sold a very popular item that was largely used for soups.
This book is full of tantalizing vignettes and anecdotes, but what stands out are some broad, universal themes in the immigrant experience. One is the toil it took Joel and his clan to build this business. For Joel, who worked uncomplainingly through the drudgery, this venture was only a pathway to what he hoped would be his final destination. His burning ambition was to get out of the teeming, dirty Lower East Side for less cramped spaces to stretch his elbows. Russ never idealized his neighborhood. During the 1930s, the Galician joined with other Lower East Side businessmen in a campaign to drive pushcarts out of the neighborhood. Ironically, although Joel was ultimately able to move his home outside of the Lower East Side, he was forced to keep his business there.
The appetizing store, Federman keenly observes, was an American invention that drew on Jewish tradition. These early shops, which inspired many a Sunday brunch, had no counterparts in Eastern Europe. There, pike and carp were bought for the Sabbath and salt herring sustained the weekdays. Russ and others carried new fish, unavailable in the Old World, like whitefish, sable, and salmon. These and other fish could supplement the old standby, herring.
Another motif that runs through immigrant history is what Federman called the transformation "from pushcart to posh." Federman's tale of how Russ & Daughters adapted to a changing neighborhood, where Lansky's Lounge replaced Ratner's Dairy Restaurant, where condominiums sprouted and "media consultants, graphic and fashion designers, computer experts, and bankers" settled, is brilliant. The owner had predicted this change: "Sooner or later, uptown will move downtown." Federman, who had once been an attorney, was determined to maintain the older sensibility without stubbornly rejecting all change.
Customers' tastes were changing: "I would look up from slicing lox and see a well-heeled, well-educated crowd of younger shoppers. Expensive baby strollers replaced old wire shopping carts. These customers didn't buy many hard candies, but they did purchase fancy hand-dipped chocolates. And along with cream cheese, they also wanted sheep-and-goat-milk cheeses to accompany their smoked salmon."
Product changes are recurrent ones in the ethnic food business. Charlie Sahadi, who runs Sahadi's, the large Middle Eastern food emporium on Atlantic Avenue in Brooklyn, once explained to me the necessity of marrying ethnic wares with "specialty foods." He teased his shoppers with both olives and low-fat McCann's Irish oatmeal.
The "etzel-petzel" (seat of the pants) operation was also modernized and streamlined. When Mark's daughter Niki joined the business, she took responsibility for "special projects" in a store that was acquiring not only national recognition but global reach.
Federman views his role as not only purveying fish but also merchandising "nostalgia." He means nostalgia in the best sense of the word, as a longing for the richness of the past. The late Israel Shenker, who wrote for The New York Times, had a similar take on the allure of Jewish food. He called it "the heartburn of nostalgia."
When I think back about the book, it's the tiny, telling details that I recall. There's the old-fashioned apple corer-peeler displayed in front of the store, which is still used to prepare apples for chopped herring salad. Federman is also at his best evoking the sensory experience of Russ & Daughters: "Push open the door at Russ & Daughters and the first thing to hit you is the store's unique aroma. It's a combination of smokiness from whitefish, salmon, sturgeon, and sable; the brininess of herrings and pickles; the yeastiness of freshly baked bagels and bialys; and the sweetness of rugelach, babka, chocolates, and halvah. How I wish I could bottle that singular scent—smoky, briny, yeasty, and sweet."
---
For more about the history of Jewish food in America, see Chapter 5 of my book, The World on a Plate: A Tour through the History of America's Ethnic Cuisine.
In Pursuit of Peri-Peri (Pepper-Pepper)
Peri-peri. The evocative Portuguese word fascinated me, even before I had discovered much about it. It was quite possible I heard it during the year I was teaching refugees from the colonial countries of southern Africa in Dar es Salaam, Tanzania. I associated it with Mozambique and Angola, two countries whose students I taught. The word, which the Portuguese borrowed, meant "pepper-pepper" in Swahili. It denoted a spicy chicken or shrimp barbecue, as well as the chili-based sauce in which it was marinated. Even after traveling on a ship that docked in Beira and Lourenço Marques, two Mozambican cities, where peri-peri reigned, I left without sampling the dish.
My courtship with Portuguese food was a tentative one. I associated it with traditional items, like chorizo, a spicy cured sausage, and seafood plates and stews, not with blazing spice. I remember trying a bland bacalhau dish, a cod and potato casserole, in an East Providence, Rhode Island Portuguese restaurant, and not being won over.
Roaming Portuguese enclaves in the U.S., I searched for the dish. I explored eateries in New Bedford, Massachusetts, the old Portuguese fishing port. In a Portuguese pocket of Hartford, Connecticut, I stumbled in pronouncing peri-peri and was courteously corrected by the waitress, who pronounced it "peedee peedee." I hunted for peri-peri in the Ironbound section of Newark, the nation's second largest Portuguese community. In one eatery, I was offered what seemed like a facsimile of the specialty, not the genuine article. I pressed the waiter for more information about my quarry, but, aside from a colorful account of the young migrant's background, I came up empty.
A trip to Portugal opened up new vistas on peri-peri and on the cuisine of this Iberian nation. I was transfixed by displays of the food that reflected a mariner culture conversant with exotic goods. In front of a grocery a short distance from the Rossio, the square that is the crossroads of the Portuguese capital, I saw tiny red peri-peri chili peppers sharing a box with fresh, inviting ginger roots. Long, snaky brown-skinned manioc root (or cassava), a starchy vegetable used by both Brazilians and West Africans, was another striking sight on this Lisbon sidewalk. I also noticed a box of plastic-wrapped caju fruits, resembling red bell peppers, from the base of which the cashew nut grows. The Indians in Brazil, who made wine from the caju, taught the Portuguese about this unusual fruit. The Portuguese transplanted it to Goa, their colony in southwest India, where it became the largest cash crop. Both the cashew nut and feni, a potent drink made from the fruit, gained an enthusiastic following in Goa.
Inside the shop were bottles of caju concentrate, which could be used to make both alcoholic and non-alcoholic refreshments. Shelves were stocked with palm oil, an orange-ish liquid, and with peanut butter—both prominent flavorings in African cooking. I looked at cans of tantalizing tamarind drink, a tart juice made from the fruit of a tropical evergreen. Pictured on the container was a pod-shaped fruit that resembled a large, brown broad bean.
Lisbon abounded in chicken grills. One evening, as my wife, Peggy, and I walked up the hill near our hotel, we noticed Verde Minho, a small dining room that had a long grill we could see through the window. This cozy churrascaria, or barbecue house, was decorated with blue and white tiles. The tables were covered with red-and-white checked tablecloths; paper squares were used in lieu of placemats. Pineapples, fruits that are grown on the Portuguese island of Madeira and are ubiquitous in Portugal, stood regally on the top of a cabinet.
We chewed on tiny black and green olives, while we waited for the grilled pork and chicken the owner was preparing for us. My pork cutlet was nicely seared, but still tender. Peggy's frango churrasco was whole chicken that had been marinated in peri-peri sauce, a blend of olive oil and chili peppers. Both crispy and moist, the bird had a spicy edge to it. For more bite, you could daub it with additional peri-peri from a terra cotta saucer on the table.
On another excursion, we set out with a Portuguese friend in search of a hidden Mozambican restaurant. We wound our way through a maze of streets, many unmarked on our map. After finally getting our bearings, we began climbing a staircase leading up a steep hill. After many steps, we saw a sign directing us to Cantinho do Aziz. We soon caught a glimpse of an outdoor grill used by the restaurant, and walked in.
Founded by an Indian immigrant from Mozambique (the East African nation had a large Indian commercial community), and now run by his widow and his two sons, the eatery offered a curious mixture of flavors. From a menu that included codfish and boiled potatoes, a Portuguese staple, we ordered chamossas. This Mozambican variant on the samosa, the triangular Indian curry-filled pastry, has become a favorite Portuguese snack. Two fiery chutneys—one green chili, the other red—accompanied the appetizer.
Coconut milk enlivened our dishes. Peggy's grilled chicken was basted with it. Our friend Catarina's shrimp curry was also infused with the rich flavoring. I savored a spicy chicken stew, called Moamba. It was made with "African" vegetables—squash, okra, and eggplant—the waiter pointed out.
Countless visits to Montreal, home to a large Portuguese community, crystallized my thinking about peri-peri. On an early trip, Peggy and I walked through Little Portugal, the neighborhood in the Plateau stretching out below the mountain (Mont Royal), where the immigrants had first settled in the 1950s and '60s. The newcomers had spruced up the area around Duluth Street, which once housed a red-light district, and established cafes, bakeries, and social clubs.
One afternoon, I went for lunch at Rotisserie Portugalia, where I received a full initiation in the world of peri-peri. The eatery resembled a small diner. In the cramped space, crowded with Portuguese men, was a lunch counter with a grill behind it. The owner and chef, Rocino Costa, who wore a peaked white paper hat, was tending a pot of beef stew, the lunch special. Costa, who had been a Portuguese settler in Angola, a birthplace of peri-peri, gave the restaurant an air of authenticity. I walked through into the little dining room. The waiter brought out a plate of black olives, a fixture of the Portuguese meal, and reached into a paper bag for a large, crunchy roll. I ordered the barbecued chicken. The frango peri-peri, delightfully crispy on the outside and tender on the inside, had been perked up with peri-peri sauce. I savored the after-burn and soaked up the amiable atmosphere.
More visits to peri-peri joints, which had mushroomed in Montreal, followed. But one grill house stood out, Mile End Churrascaria Portuguese. Peggy and I began to sit out on the terrace regularly, to enjoy a bounty of barbecue. I relished the charred peri-peri chicken, on which I daubed spicy sauce from a mason jar. It came with classic Portuguese "chips," fried thin wafers of potatoes. We usually washed down our meal with tropical sodas popular in Portugal, either pineapple or passion fruit (often called "maracuja," a Brazilian Indian name). We couldn't pass up two sweets for dessert: the creamy pasteis de nata, a caramelized egg custard tart perfected by nuns in the 18th century, and natas de ceu, a Portuguese play on tiramisu.
After soaking up so much peri-peri lore, I was eager to talk about it. One afternoon at Patisserie Notre Maison, a Portuguese café in Montreal that was a favorite hangout of ours, I found myself in a surprising conversation about peri-peri. This refuge for immigrants, especially middle-aged women who came for coffee and pastry, was part bakery, part lunchroom. It served up earthy, sustaining soups that featured greens—cabbage, kale, spinach, and rapini—as well as beans, pasta, and vegetables in an invigorating broth. It was also a magnet for customers hustling home with paper bags filled with the classic Portuguese dinner rolls. Notre Maison also sold cod fritters, grilled sardines, cheeses, sausages, and canned beans.
I began chatting with a young man who had served with the Portuguese army in Angola. Peri-peri was a familiar treat for him. As we talked, the owner and two other ladies chimed in. Recently returned from a trip to her homeland, the proprietor dismissed peri-peri as merely a food fashion. Another customer observed that she saw little of the dish in the Algarve, the Portuguese coastal resort area: She hadn't seen any "sauce." The ex-military man explained to the traditionalists that peri-peri was brought to Portugal by the retornados, colonists from Angola and Mozambique who had picked up a taste for it in Africa.
I added that, most probably, the peri-peri chili pepper, which Africans had incorporated into their barbecue, arrived on their continent with Portuguese travelers and explorers. My new friends were comforted when I explained that the peppers' voyage had doubtless begun in Brazil, where Iberian settlers had first stumbled upon this chili.
On my return to Washington, I phoned Nelson Oliveira, who owns Mile End Grill with his sister, Grace, to recheck the peri-peri tale. Yes, he said, the Portuguese colonists had brought back the "flair and flavor" of the spicy African cooking technique to their own country." But I had one further question for Nelson. Before the advent of peri-peri, I asked him, was restaurant barbecue common in Portugal? He wasn't certain. Perhaps, I suggested, the churrasco style (churrasco is the Portuguese word for barbecue) had been conceived in another colony, Brazil. "You have opened another can of worms," he responded.
Fried Chicken and Jihad
Ahmed Rahami, a young Afghani, recently entered a courtroom in Manhattan to face terrorism charges for planting bombs this September in New York City and in New Jersey. His father, Mohammad, who owned a fried chicken shop in Elizabeth, a fading industrial town in northern New Jersey, had fought with the Mujahideen in Afghanistan after the Russian invasion. Elizabeth attracted many Muslim immigrants: "We're a seaport town. You get off the plane and you're in Elizabeth," mosque President Hassen Abdullah told Reuters.
Like other immigrants in the food business, Mohammad was pursuing a time-honored path to acceptance and advancement in America. The Afghan refugee, whose restaurant also sold burgers, ice cream, barbeque ribs, and cheese fries, chose a route popular with his compatriots. His "chicken shack," to use the common nickname, was one of a legion of these ventures, many located in New Jersey and New York City. Like First American Fried Chicken, Mohammad's operation, the names of shops broadcast their owners' embrace of their new land—Texas, Boston, Harlem. The businesses attracted emigrés looking for jobs. Their patrons taught them the ropes: "It's like a formula," one proprietor explained to The New York Times. "We tell them how to go to the building department, how to save money by cutting and installing their own bulletproof glass." "When the new ones come to the store, they sit. They watch. They learn and they work." Armed with these skills, many move on to start their own shops.
The entrepreneurs instinctively knew that success required catering to popular tastes. Rather than drawing on their own food traditions, they borrowed from America's fast food repertoire. Their story reminded me of my friend, George Rababy, who sold customers cheese steaks in his Washington falafel shop. It all made good business sense. "You know, Afghanis don't even like eating fried chicken," a business owner commented to Dan Bilefsky of The New York Times.
As more eager Afghanis entered the trade, the fried chicken business was ripe for commercial combat. Abdul Haye, a chicken magnate who built a chain of shops in New York City, set out in 2011 to squash rivals he considered fraudulent competitors. Haye, who claimed the trademark for Kennedy Fried Chicken, threatened lawsuits against several shops using its name: "I'm declaring war against all the Afghanis in New York who have stolen my name and my idea," he told Bilefsky. "Their poor-quality chicken is going to kill my reputation," he said. "I am the only real Kennedy." Haye, who had begun his career at age 18 as a chicken fryer, had actually modeled his own chain, initials and all, on Kentucky Fried Chicken.
The road to the mainstream for First American could at times be a rocky one. For all its desire to please, the family enterprise was sometimes met with suspicion and resistance. One neighbor, the Rahamis claimed, told them that "Muslims shouldn't have businesses there." Another group of ethnic merchants in America, the early Greek restaurant and confectionary owners, often faced virulent harassment and violence from the Ku Klux Klan and other groups.
Ahmad Rahami was, at best, a reluctant convert to the chicken business. In time, he would lose whatever appetite he had for Americanization.
While working at First American Fried chicken, he gradually adopted the hip garb of his teenage contemporaries—baggy jeans and Air Jordans. He reveled in hip hop and, as New York Times writer N.R. Kleinfield reported, enjoyed racing "souped up" Honda Civics.
Ahmad's persona changed. After several trips to Afghanistan and Pakistan, he became enthralled with the preachings of jihad. He would sometimes wear traditional robes and pray at the back of the store. More ominously, he watched raptly El Qaeda and Taliban videos. His father told the police that his son, who had once dreamed of being a police officer or a translator for the military, was a "terrorist."
Ahmad's terrorist deeds cast a shadow over a family who wanted desperately to join the society, not revile it. The wayward youth from the fried chicken clan had rejected his family's goals for the seductions of a radical ideology.
Available Now:

The Carrot Purple
And Other Curious Stories of the Food We Eat
By Joel Denker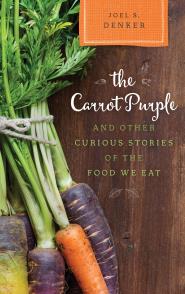 About The Carrot Purple:
How many otherwise well-educated readers know that the familiar orange carrot was once a novelty? It is a little more than 400 years old. Domesticated in Afghanistan in 900 AD, the purple carrot, in fact, was the dominant variety until Dutch gardeners bred the young upstart in the seventeenth century. After surveying paintings from this era in the Louvre and other museums, Dutch agronomist Otto Banga discovered this stunning transformation. The story of the carrot is just one of the hidden tales this book recounts. Through portraits of a wide range of foods we eat and love, from artichokes to strawberries, The Carrot Purple traces the path of foods from obscurity to familiarity.
Praise for The Carrot Purple:
Joel Denker's breadth of knowledge is dazzling, his stories are packed with jewels of information, captivating, and amusing. Reading them is pure delight.
— Claudia Roden, food writer; author of The New Book of Middle Eastern Food, The Food of Spain, The Food of Italy, and The Book of Jewish Food
The Carrot Purple is a classic Denker product. Smart, intriguing, and elegantly delivered. Every chapter is a surprise and a surprisingly subtle argument about change and global flows that has shaped peoples' food habits as much as roots and tradition. Denker takes academic research in various fields – botany, cultural studies, and history – extracts its essence and sharpens its delivery to the great pleasure of the reader, the eater, and the cook.
— Krishnendu Ray, Chair, Department of Nutrition, Food Studies & Public Health, New York University; President, Association for the Study of Food & Society
Joel Denker's smorgasbord of historical essays about common and curious plant foods (and spices) that Americans eat every day makes for an uncommonly good meal for the mind. Well researched and wonderfully written, this popular history is as good, highly informative, and fun as it gets. Now, to find some purple carrots!
— Bruce Kraig, food historian; co-author of Man Bites Dog: Hot Dog Culture in America and co-editor of Street Food around the World: An Encyclopedia of Food and Culture
Mr. Denker has a searching mind, and a busy pen. Now he has given us a culinary syllabary. The Carrot Purple and Other Curious Stories of the Food We Eat offers readers a savory taste of just about everything, from anise and arugula to walnuts and watermelon. There is lots in between, set before us with the flavors of history and geography. If you have ever wondered idly why you have never seen a purple carrot, this is where you will find the answer.
— Sidney W. Mintz, anthropologist, Johns Hopkins University; author of Sweetness and Power
Reading Joel Denker's zingy sketches of some taken-for-granted fruits, vegetables, and spices is like meeting fifty interesting people at a party and listening to a well-connected friend dish about each of them — "You want to know who climbed in bed with who before strawberries hit the charts?" "Arugula? Well, talk about nouveau riche!" For inquiring minds, the amply stocked bibliography is an added bonus.
— Anne Mendelson, culinary historian; author of Milk: The Surprising Story of Milk Through the Ages
Food historian Denker has compiled a fascinating collection of short essays on the history of many common fruits, vegetables, and spices in an effort to get readers to appreciate the fullness of these histories. He delves into each item's historical importance, which cultures adopted it first, how it traveled, and what it was used for… The anecdotes are accessible and enjoyable, and he debunks popular misconceptions of how foods have achieved their present form.
— Publishers Weekly
Have you ever wondered where baby carrots come from? Denker (The World on a Plate) has the answer. Along with the secret origin of those vegetables, the author shares the backstories of 49 other foods in short essays aimed at a general audience. Readers will learn that asparagus is related to leeks and that the Mafia cornered the artichoke market in the 1920s, along with which herb is said to smell like a squashed bedbug (coriander) and what nut was known as Jupiter's acorn (walnut). The essays delve into word origins, health properties (both proven and purported), preparation styles, and modern uses. — Library Journal
The Carrot Purple Is Available from:
Rowman & Littlefield (1-800-462-6420), Amazon.com, Barnesandnoble.com, and other online vendors in both hardcover and ebook.
Inca Kola: A Peruvian Passion
I pulled the bottle of yellowish soda from the cooler and joined the line of customers waiting to order at el Pollo Sabroso, a restaurant in Washington, D.C.'s Mount Pleasant neighborhood that specialized in grilled chicken Peruvian style. I was following the advice of a Peruvian friend and buying Inca Kola to go with this dish. With pollo a la brasa, this fervent fan of the national drink said, Peruvians must have Inca Kola. In his homeland, no polleria or chicken vendor would even carry Coca Cola. I was puzzled about why Peruvians, locals and émigrés alike, were so passionately loyal to this mass-produced soda. The affection seemed odd in a culture where the homemade and the traditional were so esteemed. I set out to investigate.
Credit a Yorkshireman with introducing Peruvians to this peculiar drink. In a country of immigrants—a land whose Presidents included Kuczynski, Toledo, and Fujimori—new arrival Joseph Lindley hardly stood out. Lindley and his wife Martha arrived in Lima in 1911. A product of Doncaster, a North England coal town, he opened a small shop purveying carbonated soft drinks. The Santa Rosa Draft Company manufactured Orange Squash, Lemon Squash, Champagne Cola, and other beverages.
After tinkering with various products, Lindley threw himself into concocting the liquid creation that was to become Inca Kola. Keenly attuned to the Peruvian national spirit, the entrepreneur launched Inca in 1935, a festive year in which Lima's 400th anniversary was being celebrated. In a display of marketing genius, Lindley identified his product with the nation's heritage. An Inca Indian figure would grace the bottle.  The drink's distinctive yellow color evoked the sacred rays of the sun. Over the years, the company promoted the drink with such tag lines as "Es Nuestra" ("Its Ours") and "Inca Kola, The Drink of National Flavor." In an interview with the Huaraz Telegraph, an English-language Peruvian newspaper, Joseph's son Johnny recalled the business's winning strategy: "We knew how to communicate to the people that we felt like part of this country. In the days of terrorism we would say that Inca Kola was the flavour that united, it gave us strength, when in times of pain it became the flavour of joy, the flavour of the party."
Peruvians testify to the emotional ties the drink inspires. Rafael Garcia explained his loyalty to Inca Kola to Calvin Sims of the New York Times: "I drink it because it makes me feel Peruvian. "I tell [my daughter] Gabby: This is our drink, not something invented overseas. It is named for our ancestors, the great Incan warriors." Sims offers up a priceless anecdote to illustrate Peru's Inca mania. A passenger on a flight from Buenos Aires to Lima was aggravated when the airline ran out of his favorite drink. "Drink something other than Inca Kola—that's sacrilege you are suggesting. That's like an Argentine eating beef from Bolivia, or a Brazilian wearing Bermuda shorts to the beach." He finally gave up and ordered a Sprite. "You got any yellow food coloring to go with that?"
The soda, which Argentine writer Jorge Luis Borges called "a simply implausible drink," might seem like a tough sell. Some have likened its taste to bubble gum.  Inca, one of whose ingredients is reported to be a popular herb, Hierba Luisa, used for making tea, partakes of the plant's lemony flavor. Crucially, the drink appeals to the Peruvian sweet tooth. To succeed in the Andean nation, Coca Cola had to increase its beverage's sugar content.
For all its commercial ingenuity, the company had to fight a tough battle with Coca Cola for supremacy. Coca Cola, which had originally fortified its product with extracts from Andean coca leaves, ruled the market. Other local brands like Kola Inglese and Triple Cola vied for customers. Susy Kola, a drink named for exotic dancer and legislator Suzy Diaz, was another favorite.
In Peru's "Kola Wars" the interloper, Inca Kola, cast itself as the underdog against the Coca Cola leviathan. Inca peddled its brew to restaurants, snackbars, and small picanterias. In one victory, the soda broke into Bembos, a fast food chain, and overcame the resistance of McDonald's, which had an exclusive relationship with Coke
Inca Kola shrewdly associated its product with Peru's diverse dishes and eating. The drink was portrayed as the perfect accompaniment to Lomo Saltado, a stir-fry of beef strips, onions, tomatoes, and potatoes suffused with soy, garlic, and cilantro; Aji Amarillo, chicken prepared in a nutty chili-laced sauce; and other national specialties. Converting the country's many chifas (Chinese eateries) to Inca was a major victory. (Surprisingly, Peru has a large Chinese population, which originated in the mid-nineteenth century when Spain imported laborers as replacements for the recently freed slaves to work in the plantations, guano mines, and other jobs.) In many of these outlets, the new soda was the only bottled drink served. "Chifa without Inca Kola just isn't Chifa to most people," the Huaraz Telegraph put it.
Coca Cola finally capitulated to Inca, one of the few victories in which a national drink was able to best the global giant. After attempting to buy out its rival, Coke agreed in 1999 to buy a 50% share of its rival for $300 million. It also took control of Inca's overseas marketing and production. Inca continues to beat Coke in the Peruvian market.
A victory celebration soon followed. Coca Cola CE0 M. Douglas Ivester traveled to Lima to announce the agreement. In a symbolic gesture, the executive, no fan of the soda, drank a glass of Inca at a press conference. "Coca Cola's President Toasts with Inca Kola," one newspaper headline exulted. The reluctant businessman was rumored to have muttered "looks like pee, tastes like bubblegum."
In the hands of business analysts, Inca's success story has become an attractive case study. "The success of Inca Kola also reflects the uniqueness of Peruvian consumers who tend to have very strong ties to products that they associate with personal and national identity," an essay from the Wharton School of Business Management at the University of Pennsylvania contended. Inca's triumph, business school professor Gerard Costa observed, demonstrated how a company can beat back the forces of globalization. "Globalization, during times of economic weakness—such as Peru during the 1980s and 1990s—led consumers to identify with their local products."
The secret behind the brand's success isn't really that complicated. Inca strikes a sentimental chord in its buyers. "Inca Kola runs through the veins of Peruvian babies—and that is not an exaggeration," Peruvian chef Hajime Kasuga told the Financial Times.
A Brief Note: The words in Peru for soy sauce (siyau) and ginger (kion) are not the normal Spanish terms, but are taken from Chinese.
June 2015
Neighborhood Noshing: Exploring the Big Apple
We sampled black sesame ice cream at a shop on 8th Avenue in Brooklyn's Sunset Park neighborhood, which now has New York's third largest Chinatown. This enclave, located between southern Park Slope and Bay Ridge, has eclipsed lower Manhattan's historic quarter. We could have sipped bubble tea, feasted on dim sum, and savored salted squid in this center of Asian commerce. The section, which the new settlers call "Bat Dai Do" (Big Eight Street), curiously enough, had once been the heart of Little Norway. The Scandinavians dubbed it Lapskaus Avenue for the name of a favorite beef stew. My father, who had grown up in Brooklyn, often recalled the ethnics who had brought their seafaring skills to the borough. Sunset Park was close to the waterfront where they worked.
Once colonized by the Dutch, Italians, and Irish as well, Sunset Park was acquiring a new identity. Chinese immigrants, predominantly Fujianese   from south China, were transplanting their culture. They had followed the path of the N and R subway lines from Manhattan's Chinatown to their new destination. This enterprising group could maintain a direct connection to a district where many still worked and shopped, while living in a less constricted space.
My wife, Peggy, and I were getting our introduction to this changing neighborhood from a Nosh Walk, one of a variety of weekly excursions to New York City's ethnic neighborhoods led by Myra Alperson. Myra guided our band to the top of Sunset Park itself. From our perch we could see the harbor and the Verrazano Bridge. As we looked back down the slopes of the park, we could see families picnicking and cooking out in yards nearby. Vendors peddled food. They were part of the growing Latin population that had been putting down roots in Sunset Park. The newest settlers were largely Mexican. Not far away, amid Dominican, Ecuadorian, and Peruvian businesses on 5th Avenue, Mexican shopkeepers were carving out their own niche.
On another trek led by Myra, we got a rare glimpse into the city's radically changing demography. She led us through "Little Odessa," Brighton Beach, a heavily Russian neighborhood in Brooklyn.  As we walked along Brighton Beach Avenue, which runs under the elevated tracks of the subway, I was struck by tell-tale signs of the community's past and present. I noticed a fading sign for Mrs. Stahl's Knishes, a reminder of the once-thriving American Jewish neighborhood. A vendor was selling pomegranate juice, a refreshment dear to Central Asians from the former Soviet Union. For passersby who looked forward to a brisk sauna, another hawker offered banya veniks, bundles of leafy tree branches, to use in a vigorous massage.
Myra shares absorbing historical and architectural details about neighborhoods during her walks. Brighton Beach was once a seaside resort built in the 1870s complete with race track, amusement park, and a posh hotel. Its developers were trying to emulate the English seaside resort, Brighton. Mother Jones, the labor activist, Myra told us, once lived here and a number of apartments were named for old socialists. The area took on an urban, grittier feel by the 1920s. The completion of the subway line from Manhattan enabled immigrant Jewish families to move away from the tenements of the Lower East Side to this roomier outpost near the ocean. The exodus of Soviet Jews, particularly from the Ukraine, who resettled in Brighton Beach during the 1970s, altered the neighborhood once again.
Food was the dominant motif of these tours. It is what drew participants and illuminated most sharply New York's ethnic folkways. As New York Times reporter Joseph Berger observed of Nosh Walks, "like Napoleon's army, her crew travels on its stomach." There was an atmosphere of grandiosity in the vast M and I International food emporium Myra guided us into. For Russians used to stern austerity, the lavish culinary displays in this multi-floored establishment, a combination grocery, fast food eatery, and dessert café, broadcast excess. The store flaunted a surfeit of fish, smoked meats, cheeses, salads, and preserves. Standing in line, I was reminded of old regime vigilance:  A burly bouncer glowered at me when I got too close to the counter.
We soon wandered into a produce store, Fancy Farm, and Peggy discovered a luscious prize, a bag of pomegranate seeds (arils). They soon began adding tang to our home salads. The store's proprietors were Koreans who were conversant in Russian.  An abundance of cakes, chocolates, and pastries awaited us later at La Brioche, a Russian pastry shop with a French accent. The Russian-speaking hostesses, who wore billowy chefs' caps, served us Napoleons and other bountiful desserts.
A short walk off Brighton Beach Avenue toward the boardwalk and the ocean took us to an Uzbek café, a business emblematic of a community still in flux. Uzbeks, Tadjiks, and Georgians were introducing new flavors to the neighborhood. We sampled an oniony dumpling filled with pieces of
Our Brighton Beach tour leader, a school teacher by day, began guiding her guests through New York City's ethnic quilt in 1983 when she launched Hungry Pedalers Gourmet Bicycle Tours. Seventeen years later Myra dreamed up a program of walking tours she called Nosh Walks. Its slogan is "Nosh your way from Odessa to Bombay … and never leave New York."  She takes her flocks through Manhattan, Brooklyn, and Queens, and even Staten Island, which now has a large Sri Lankan community and several eateries featuring that country's cuisine. She has launched a walk through a favorite haunt of mine, Newark, New Jersey's Ironbound section, a Portuguese stronghold, which is now getting an infusion of Brazilians and Ecuadorians. Along the way, Myra authored a book, Nosh New York, a culinary and cultural guide to the neighborhoods she tours.
Although I didn't fully grasp it at the time, Nosh Walks offers a unique,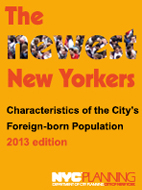 street-level view of the social upheaval reshaping New York.  An absorbing report I've been reading documents the transformation. The Newest New Yorkers, published by the city's planning and immigrant affairs departments  and released in 2013, uses census and other survey data to highlight a fascinating trend—immigrants from the Third World supplanting Europeans as the Empire City's largest foreign-born population. As recently as 1970, Italians, followed by Poles and Russians, were the top three groups among the new arrivals.  In 2011, the Russians, who were already expanding from Brighton Beach to nearby areas, were the only Europeans in the top ten.
Two of the fastest growing groups in New York were based in Sunset Park. The Chinese, now the city's second largest immigrant group (after Dominicans), have tripled in size over the past decade. The ethnics, no longer concentrated in Manhattan's old Chinatown, have fanned out to Brooklyn and Queens. Sunset Park was one of the sizable enclaves springing up. Spreading south from Sunset Park, the Chinese have dramatically transformed Bensonhurst, a traditionally European ethnic neighborhood. Once strongly Italian, Sicilian in particular, the area has blossomed into the city's largest immigrant Chinese community. Bensonhurst, where the opening scenes of Saturday Night Fever were shot and where the Honeymooners was set, is taking on a new character. Its hallmark bakeries, pork stores, and social clubs are fading, if not vanishing. I wondered if Spumoni Gardens, a restaurant beloved by friends Eliott and Steve Bhaerman, who grew up in the district, would survive?
Tidbits from The Newest New Yorkers
The Chinese were the largest refugee group in New York City during the past decade.

The Portuguese, in recent years Newark's largest immigrant group, have been overtaken by Ecuadorians

The Bronx has become a West African bastion. 75% of Ghanaians, for example, lived in the borough in 2011.

Guyanese of Indian background tended to settle in Queens, while those of African descent were more likely to put down roots in Brooklyn.
* * *
The surge in New York's Mexican community also explains the changing face of Sunset Park. The Mexican population, once tiny, has burgeoned, making it the city's third largest immigrant group and its fastest growing.  In the process, Sunset Park has risen to second place among the city's biggest Mexican neighborhoods.
Nosh Walks not only opened up new vistas on this metropolis but also offered an inventive way to explore it. When I roamed New York in the sixties and seventies in search of culinary finds, my only guides were the Underground Gourmet handbooks. I stuck mainly to Manhattan's byways. In the East Village, I chowed down on pierogis at Leshko's, a Ukrainian eatery, and left Ratners, the venerable Jewish dining room, sated from strawberry blintzes. The B and H Dairy Luncheonette, a dairy restaurant on 2nd Avenue, was another favorite. There, a chopped herring sandwich was enlivened by the repartee of smart alecky countermen. Nearby was the Gem Spa, where I could grab a quick egg cream.
For something more unusual, friends and I traveled to Asia de Cuba, a Cuban-Chinese lunch counter in Chelsea, one of many such places opened up by Chinese émigrés from that Caribbean island. I took great pleasure in a plate of shrimp and yellow rice, fried plantains, and black beans, accompanied by sliced avocado. For the less adventurous, customers could choose from the half menu devoted to Chinese dishes.
My haphazard walks had only scraped the surface of ethnic New York. Reading the announcements of Nosh Walks has tantalized me, stirring yearnings to visit unfamiliar parts of Brooklyn and Queens. I am eager to investigate Astoria, once the capital of the Greek diaspora, and now increasingly populated by Egyptians, Moroccans, Brazilians, Bangladeshis, and other groups. A subway ride to Richmond Hill, near Kennedy airport, would take me to a center of Guyanese settlement. There, I gather from reports I have read, the Guyanese, who are largely of Indian background (descendants of the indentured laborers who worked the sugar plantations), have recreated a hybrid culture. In Little Guyana, you can munch on rotis, Indian flat breads stuffed with curried vegetables, goat, and chickpeas. Fusion dishes, like jerked chicken fried rice, reflect the culinary influence of the Chinese who migrated to the West Indian nation.
The advent of Nosh Walks means that my journeys to hidden sections of the city no longer have to be solitary. I can now wander through neighborhoods with other kindred and intrepid souls and with a savvy guide.
December 2014