Fried Chicken and Jihad
Ahmed Rahami, a young Afghani, recently entered a courtroom in Manhattan to face terrorism charges for planting bombs this September in New York City and in New Jersey. His father, Mohammad, who owned a fried chicken shop in Elizabeth, a fading industrial town in northern New Jersey, had fought with the Mujahideen in Afghanistan after the Russian invasion. Elizabeth attracted many Muslim immigrants: "We're a seaport town. You get off the plane and you're in Elizabeth," mosque President Hassen Abdullah told Reuters.
Like other immigrants in the food business, Mohammad was pursuing a time-honored path to acceptance and advancement in America. The Afghan refugee, whose restaurant also sold burgers, ice cream, barbeque ribs, and cheese fries, chose a route popular with his compatriots. His "chicken shack," to use the common nickname, was one of a legion of these ventures, many located in New Jersey and New York City. Like First American Fried Chicken, Mohammad's operation, the names of shops broadcast their owners' embrace of their new land—Texas, Boston, Harlem. The businesses attracted emigrés looking for jobs. Their patrons taught them the ropes: "It's like a formula," one proprietor explained to The New York Times. "We tell them how to go to the building department, how to save money by cutting and installing their own bulletproof glass." "When the new ones come to the store, they sit. They watch. They learn and they work." Armed with these skills, many move on to start their own shops.
The entrepreneurs instinctively knew that success required catering to popular tastes. Rather than drawing on their own food traditions, they borrowed from America's fast food repertoire. Their story reminded me of my friend, George Rababy, who sold customers cheese steaks in his Washington falafel shop. It all made good business sense. "You know, Afghanis don't even like eating fried chicken," a business owner commented to Dan Bilefsky of The New York Times.
As more eager Afghanis entered the trade, the fried chicken business was ripe for commercial combat. Abdul Haye, a chicken magnate who built a chain of shops in New York City, set out in 2011 to squash rivals he considered fraudulent competitors. Haye, who claimed the trademark for Kennedy Fried Chicken, threatened lawsuits against several shops using its name: "I'm declaring war against all the Afghanis in New York who have stolen my name and my idea," he told Bilefsky. "Their poor-quality chicken is going to kill my reputation," he said. "I am the only real Kennedy." Haye, who had begun his career at age 18 as a chicken fryer, had actually modeled his own chain, initials and all, on Kentucky Fried Chicken.
The road to the mainstream for First American could at times be a rocky one. For all its desire to please, the family enterprise was sometimes met with suspicion and resistance. One neighbor, the Rahamis claimed, told them that "Muslims shouldn't have businesses there." Another group of ethnic merchants in America, the early Greek restaurant and confectionary owners, often faced virulent harassment and violence from the Ku Klux Klan and other groups.
Ahmad Rahami was, at best, a reluctant convert to the chicken business. In time, he would lose whatever appetite he had for Americanization.
While working at First American Fried chicken, he gradually adopted the hip garb of his teenage contemporaries—baggy jeans and Air Jordans. He reveled in hip hop and, as New York Times writer N.R. Kleinfield reported, enjoyed racing "souped up" Honda Civics.
Ahmad's persona changed. After several trips to Afghanistan and Pakistan, he became enthralled with the preachings of jihad. He would sometimes wear traditional robes and pray at the back of the store. More ominously, he watched raptly El Qaeda and Taliban videos. His father told the police that his son, who had once dreamed of being a police officer or a translator for the military, was a "terrorist."
Ahmad's terrorist deeds cast a shadow over a family who wanted desperately to join the society, not revile it. The wayward youth from the fried chicken clan had rejected his family's goals for the seductions of a radical ideology.
Available Now:

The Carrot Purple
And Other Curious Stories of the Food We Eat
By Joel Denker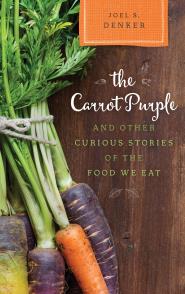 About The Carrot Purple:
How many otherwise well-educated readers know that the familiar orange carrot was once a novelty? It is a little more than 400 years old. Domesticated in Afghanistan in 900 AD, the purple carrot, in fact, was the dominant variety until Dutch gardeners bred the young upstart in the seventeenth century. After surveying paintings from this era in the Louvre and other museums, Dutch agronomist Otto Banga discovered this stunning transformation. The story of the carrot is just one of the hidden tales this book recounts. Through portraits of a wide range of foods we eat and love, from artichokes to strawberries, The Carrot Purple traces the path of foods from obscurity to familiarity.
Praise for The Carrot Purple:
Joel Denker's breadth of knowledge is dazzling, his stories are packed with jewels of information, captivating, and amusing. Reading them is pure delight.
— Claudia Roden, food writer; author of The New Book of Middle Eastern Food, The Food of Spain, The Food of Italy, and The Book of Jewish Food
The Carrot Purple is a classic Denker product. Smart, intriguing, and elegantly delivered. Every chapter is a surprise and a surprisingly subtle argument about change and global flows that has shaped peoples' food habits as much as roots and tradition. Denker takes academic research in various fields – botany, cultural studies, and history – extracts its essence and sharpens its delivery to the great pleasure of the reader, the eater, and the cook.
— Krishnendu Ray, Chair, Department of Nutrition, Food Studies & Public Health, New York University; President, Association for the Study of Food & Society
Joel Denker's smorgasbord of historical essays about common and curious plant foods (and spices) that Americans eat every day makes for an uncommonly good meal for the mind. Well researched and wonderfully written, this popular history is as good, highly informative, and fun as it gets. Now, to find some purple carrots!
— Bruce Kraig, food historian; co-author of Man Bites Dog: Hot Dog Culture in America and co-editor of Street Food around the World: An Encyclopedia of Food and Culture
Mr. Denker has a searching mind, and a busy pen. Now he has given us a culinary syllabary. The Carrot Purple and Other Curious Stories of the Food We Eat offers readers a savory taste of just about everything, from anise and arugula to walnuts and watermelon. There is lots in between, set before us with the flavors of history and geography. If you have ever wondered idly why you have never seen a purple carrot, this is where you will find the answer.
— Sidney W. Mintz, anthropologist, Johns Hopkins University; author of Sweetness and Power
Reading Joel Denker's zingy sketches of some taken-for-granted fruits, vegetables, and spices is like meeting fifty interesting people at a party and listening to a well-connected friend dish about each of them — "You want to know who climbed in bed with who before strawberries hit the charts?" "Arugula? Well, talk about nouveau riche!" For inquiring minds, the amply stocked bibliography is an added bonus.
— Anne Mendelson, culinary historian; author of Milk: The Surprising Story of Milk Through the Ages
Food historian Denker has compiled a fascinating collection of short essays on the history of many common fruits, vegetables, and spices in an effort to get readers to appreciate the fullness of these histories. He delves into each item's historical importance, which cultures adopted it first, how it traveled, and what it was used for… The anecdotes are accessible and enjoyable, and he debunks popular misconceptions of how foods have achieved their present form.
— Publishers Weekly
Have you ever wondered where baby carrots come from? Denker (The World on a Plate) has the answer. Along with the secret origin of those vegetables, the author shares the backstories of 49 other foods in short essays aimed at a general audience. Readers will learn that asparagus is related to leeks and that the Mafia cornered the artichoke market in the 1920s, along with which herb is said to smell like a squashed bedbug (coriander) and what nut was known as Jupiter's acorn (walnut). The essays delve into word origins, health properties (both proven and purported), preparation styles, and modern uses. — Library Journal
The Carrot Purple Is Available from:
Rowman & Littlefield (1-800-462-6420), Amazon.com, Barnesandnoble.com, and other online vendors in both hardcover and ebook.
Inca Kola: A Peruvian Passion
I pulled the bottle of yellowish soda from the cooler and joined the line of customers waiting to order at el Pollo Sabroso, a restaurant in Washington, D.C.'s Mount Pleasant neighborhood that specialized in grilled chicken Peruvian style. I was following the advice of a Peruvian friend and buying Inca Kola to go with this dish. With pollo a la brasa, this fervent fan of the national drink said, Peruvians must have Inca Kola. In his homeland, no polleria or chicken vendor would even carry Coca Cola. I was puzzled about why Peruvians, locals and émigrés alike, were so passionately loyal to this mass-produced soda. The affection seemed odd in a culture where the homemade and the traditional were so esteemed. I set out to investigate.
Credit a Yorkshireman with introducing Peruvians to this peculiar drink. In a country of immigrants—a land whose Presidents included Kuczynski, Toledo, and Fujimori—new arrival Joseph Lindley hardly stood out. Lindley and his wife Martha arrived in Lima in 1911. A product of Doncaster, a North England coal town, he opened a small shop purveying carbonated soft drinks. The Santa Rosa Draft Company manufactured Orange Squash, Lemon Squash, Champagne Cola, and other beverages.
After tinkering with various products, Lindley threw himself into concocting the liquid creation that was to become Inca Kola. Keenly attuned to the Peruvian national spirit, the entrepreneur launched Inca in 1935, a festive year in which Lima's 400th anniversary was being celebrated. In a display of marketing genius, Lindley identified his product with the nation's heritage. An Inca Indian figure would grace the bottle.  The drink's distinctive yellow color evoked the sacred rays of the sun. Over the years, the company promoted the drink with such tag lines as "Es Nuestra" ("Its Ours") and "Inca Kola, The Drink of National Flavor." In an interview with the Huaraz Telegraph, an English-language Peruvian newspaper, Joseph's son Johnny recalled the business's winning strategy: "We knew how to communicate to the people that we felt like part of this country. In the days of terrorism we would say that Inca Kola was the flavour that united, it gave us strength, when in times of pain it became the flavour of joy, the flavour of the party."
Peruvians testify to the emotional ties the drink inspires. Rafael Garcia explained his loyalty to Inca Kola to Calvin Sims of the New York Times: "I drink it because it makes me feel Peruvian. "I tell [my daughter] Gabby: This is our drink, not something invented overseas. It is named for our ancestors, the great Incan warriors." Sims offers up a priceless anecdote to illustrate Peru's Inca mania. A passenger on a flight from Buenos Aires to Lima was aggravated when the airline ran out of his favorite drink. "Drink something other than Inca Kola—that's sacrilege you are suggesting. That's like an Argentine eating beef from Bolivia, or a Brazilian wearing Bermuda shorts to the beach." He finally gave up and ordered a Sprite. "You got any yellow food coloring to go with that?"
The soda, which Argentine writer Jorge Luis Borges called "a simply implausible drink," might seem like a tough sell. Some have likened its taste to bubble gum.  Inca, one of whose ingredients is reported to be a popular herb, Hierba Luisa, used for making tea, partakes of the plant's lemony flavor. Crucially, the drink appeals to the Peruvian sweet tooth. To succeed in the Andean nation, Coca Cola had to increase its beverage's sugar content.
For all its commercial ingenuity, the company had to fight a tough battle with Coca Cola for supremacy. Coca Cola, which had originally fortified its product with extracts from Andean coca leaves, ruled the market. Other local brands like Kola Inglese and Triple Cola vied for customers. Susy Kola, a drink named for exotic dancer and legislator Suzy Diaz, was another favorite.
In Peru's "Kola Wars" the interloper, Inca Kola, cast itself as the underdog against the Coca Cola leviathan. Inca peddled its brew to restaurants, snackbars, and small picanterias. In one victory, the soda broke into Bembos, a fast food chain, and overcame the resistance of McDonald's, which had an exclusive relationship with Coke
Inca Kola shrewdly associated its product with Peru's diverse dishes and eating. The drink was portrayed as the perfect accompaniment to Lomo Saltado, a stir-fry of beef strips, onions, tomatoes, and potatoes suffused with soy, garlic, and cilantro; Aji Amarillo, chicken prepared in a nutty chili-laced sauce; and other national specialties. Converting the country's many chifas (Chinese eateries) to Inca was a major victory. (Surprisingly, Peru has a large Chinese population, which originated in the mid-nineteenth century when Spain imported laborers as replacements for the recently freed slaves to work in the plantations, guano mines, and other jobs.) In many of these outlets, the new soda was the only bottled drink served. "Chifa without Inca Kola just isn't Chifa to most people," the Huaraz Telegraph put it.
Coca Cola finally capitulated to Inca, one of the few victories in which a national drink was able to best the global giant. After attempting to buy out its rival, Coke agreed in 1999 to buy a 50% share of its rival for $300 million. It also took control of Inca's overseas marketing and production. Inca continues to beat Coke in the Peruvian market.
A victory celebration soon followed. Coca Cola CE0 M. Douglas Ivester traveled to Lima to announce the agreement. In a symbolic gesture, the executive, no fan of the soda, drank a glass of Inca at a press conference. "Coca Cola's President Toasts with Inca Kola," one newspaper headline exulted. The reluctant businessman was rumored to have muttered "looks like pee, tastes like bubblegum."
In the hands of business analysts, Inca's success story has become an attractive case study. "The success of Inca Kola also reflects the uniqueness of Peruvian consumers who tend to have very strong ties to products that they associate with personal and national identity," an essay from the Wharton School of Business Management at the University of Pennsylvania contended. Inca's triumph, business school professor Gerard Costa observed, demonstrated how a company can beat back the forces of globalization. "Globalization, during times of economic weakness—such as Peru during the 1980s and 1990s—led consumers to identify with their local products."
The secret behind the brand's success isn't really that complicated. Inca strikes a sentimental chord in its buyers. "Inca Kola runs through the veins of Peruvian babies—and that is not an exaggeration," Peruvian chef Hajime Kasuga told the Financial Times.
A Brief Note: The words in Peru for soy sauce (siyau) and ginger (kion) are not the normal Spanish terms, but are taken from Chinese.
June 2015
Neighborhood Noshing: Exploring the Big Apple
We sampled black sesame ice cream at a shop on 8th Avenue in Brooklyn's Sunset Park neighborhood, which now has New York's third largest Chinatown. This enclave, located between southern Park Slope and Bay Ridge, has eclipsed lower Manhattan's historic quarter. We could have sipped bubble tea, feasted on dim sum, and savored salted squid in this center of Asian commerce. The section, which the new settlers call "Bat Dai Do" (Big Eight Street), curiously enough, had once been the heart of Little Norway. The Scandinavians dubbed it Lapskaus Avenue for the name of a favorite beef stew. My father, who had grown up in Brooklyn, often recalled the ethnics who had brought their seafaring skills to the borough. Sunset Park was close to the waterfront where they worked.
Once colonized by the Dutch, Italians, and Irish as well, Sunset Park was acquiring a new identity. Chinese immigrants, predominantly Fujianese   from south China, were transplanting their culture. They had followed the path of the N and R subway lines from Manhattan's Chinatown to their new destination. This enterprising group could maintain a direct connection to a district where many still worked and shopped, while living in a less constricted space.
My wife, Peggy, and I were getting our introduction to this changing neighborhood from a Nosh Walk, one of a variety of weekly excursions to New York City's ethnic neighborhoods led by Myra Alperson. Myra guided our band to the top of Sunset Park itself. From our perch we could see the harbor and the Verrazano Bridge. As we looked back down the slopes of the park, we could see families picnicking and cooking out in yards nearby. Vendors peddled food. They were part of the growing Latin population that had been putting down roots in Sunset Park. The newest settlers were largely Mexican. Not far away, amid Dominican, Ecuadorian, and Peruvian businesses on 5th Avenue, Mexican shopkeepers were carving out their own niche.
On another trek led by Myra, we got a rare glimpse into the city's radically changing demography. She led us through "Little Odessa," Brighton Beach, a heavily Russian neighborhood in Brooklyn.  As we walked along Brighton Beach Avenue, which runs under the elevated tracks of the subway, I was struck by tell-tale signs of the community's past and present. I noticed a fading sign for Mrs. Stahl's Knishes, a reminder of the once-thriving American Jewish neighborhood. A vendor was selling pomegranate juice, a refreshment dear to Central Asians from the former Soviet Union. For passersby who looked forward to a brisk sauna, another hawker offered banya veniks, bundles of leafy tree branches, to use in a vigorous massage.
Myra shares absorbing historical and architectural details about neighborhoods during her walks. Brighton Beach was once a seaside resort built in the 1870s complete with race track, amusement park, and a posh hotel. Its developers were trying to emulate the English seaside resort, Brighton. Mother Jones, the labor activist, Myra told us, once lived here and a number of apartments were named for old socialists. The area took on an urban, grittier feel by the 1920s. The completion of the subway line from Manhattan enabled immigrant Jewish families to move away from the tenements of the Lower East Side to this roomier outpost near the ocean. The exodus of Soviet Jews, particularly from the Ukraine, who resettled in Brighton Beach during the 1970s, altered the neighborhood once again.
Food was the dominant motif of these tours. It is what drew participants and illuminated most sharply New York's ethnic folkways. As New York Times reporter Joseph Berger observed of Nosh Walks, "like Napoleon's army, her crew travels on its stomach." There was an atmosphere of grandiosity in the vast M and I International food emporium Myra guided us into. For Russians used to stern austerity, the lavish culinary displays in this multi-floored establishment, a combination grocery, fast food eatery, and dessert café, broadcast excess. The store flaunted a surfeit of fish, smoked meats, cheeses, salads, and preserves. Standing in line, I was reminded of old regime vigilance:  A burly bouncer glowered at me when I got too close to the counter.
We soon wandered into a produce store, Fancy Farm, and Peggy discovered a luscious prize, a bag of pomegranate seeds (arils). They soon began adding tang to our home salads. The store's proprietors were Koreans who were conversant in Russian.  An abundance of cakes, chocolates, and pastries awaited us later at La Brioche, a Russian pastry shop with a French accent. The Russian-speaking hostesses, who wore billowy chefs' caps, served us Napoleons and other bountiful desserts.
A short walk off Brighton Beach Avenue toward the boardwalk and the ocean took us to an Uzbek café, a business emblematic of a community still in flux. Uzbeks, Tadjiks, and Georgians were introducing new flavors to the neighborhood. We sampled an oniony dumpling filled with pieces of
Our Brighton Beach tour leader, a school teacher by day, began guiding her guests through New York City's ethnic quilt in 1983 when she launched Hungry Pedalers Gourmet Bicycle Tours. Seventeen years later Myra dreamed up a program of walking tours she called Nosh Walks. Its slogan is "Nosh your way from Odessa to Bombay … and never leave New York."  She takes her flocks through Manhattan, Brooklyn, and Queens, and even Staten Island, which now has a large Sri Lankan community and several eateries featuring that country's cuisine. She has launched a walk through a favorite haunt of mine, Newark, New Jersey's Ironbound section, a Portuguese stronghold, which is now getting an infusion of Brazilians and Ecuadorians. Along the way, Myra authored a book, Nosh New York, a culinary and cultural guide to the neighborhoods she tours.
Although I didn't fully grasp it at the time, Nosh Walks offers a unique,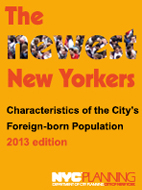 street-level view of the social upheaval reshaping New York.  An absorbing report I've been reading documents the transformation. The Newest New Yorkers, published by the city's planning and immigrant affairs departments  and released in 2013, uses census and other survey data to highlight a fascinating trend—immigrants from the Third World supplanting Europeans as the Empire City's largest foreign-born population. As recently as 1970, Italians, followed by Poles and Russians, were the top three groups among the new arrivals.  In 2011, the Russians, who were already expanding from Brighton Beach to nearby areas, were the only Europeans in the top ten.
Two of the fastest growing groups in New York were based in Sunset Park. The Chinese, now the city's second largest immigrant group (after Dominicans), have tripled in size over the past decade. The ethnics, no longer concentrated in Manhattan's old Chinatown, have fanned out to Brooklyn and Queens. Sunset Park was one of the sizable enclaves springing up. Spreading south from Sunset Park, the Chinese have dramatically transformed Bensonhurst, a traditionally European ethnic neighborhood. Once strongly Italian, Sicilian in particular, the area has blossomed into the city's largest immigrant Chinese community. Bensonhurst, where the opening scenes of Saturday Night Fever were shot and where the Honeymooners was set, is taking on a new character. Its hallmark bakeries, pork stores, and social clubs are fading, if not vanishing. I wondered if Spumoni Gardens, a restaurant beloved by friends Eliott and Steve Bhaerman, who grew up in the district, would survive?
Tidbits from The Newest New Yorkers
The Chinese were the largest refugee group in New York City during the past decade.

The Portuguese, in recent years Newark's largest immigrant group, have been overtaken by Ecuadorians

The Bronx has become a West African bastion. 75% of Ghanaians, for example, lived in the borough in 2011.

Guyanese of Indian background tended to settle in Queens, while those of African descent were more likely to put down roots in Brooklyn.
* * *
The surge in New York's Mexican community also explains the changing face of Sunset Park. The Mexican population, once tiny, has burgeoned, making it the city's third largest immigrant group and its fastest growing.  In the process, Sunset Park has risen to second place among the city's biggest Mexican neighborhoods.
Nosh Walks not only opened up new vistas on this metropolis but also offered an inventive way to explore it. When I roamed New York in the sixties and seventies in search of culinary finds, my only guides were the Underground Gourmet handbooks. I stuck mainly to Manhattan's byways. In the East Village, I chowed down on pierogis at Leshko's, a Ukrainian eatery, and left Ratners, the venerable Jewish dining room, sated from strawberry blintzes. The B and H Dairy Luncheonette, a dairy restaurant on 2nd Avenue, was another favorite. There, a chopped herring sandwich was enlivened by the repartee of smart alecky countermen. Nearby was the Gem Spa, where I could grab a quick egg cream.
For something more unusual, friends and I traveled to Asia de Cuba, a Cuban-Chinese lunch counter in Chelsea, one of many such places opened up by Chinese émigrés from that Caribbean island. I took great pleasure in a plate of shrimp and yellow rice, fried plantains, and black beans, accompanied by sliced avocado. For the less adventurous, customers could choose from the half menu devoted to Chinese dishes.
My haphazard walks had only scraped the surface of ethnic New York. Reading the announcements of Nosh Walks has tantalized me, stirring yearnings to visit unfamiliar parts of Brooklyn and Queens. I am eager to investigate Astoria, once the capital of the Greek diaspora, and now increasingly populated by Egyptians, Moroccans, Brazilians, Bangladeshis, and other groups. A subway ride to Richmond Hill, near Kennedy airport, would take me to a center of Guyanese settlement. There, I gather from reports I have read, the Guyanese, who are largely of Indian background (descendants of the indentured laborers who worked the sugar plantations), have recreated a hybrid culture. In Little Guyana, you can munch on rotis, Indian flat breads stuffed with curried vegetables, goat, and chickpeas. Fusion dishes, like jerked chicken fried rice, reflect the culinary influence of the Chinese who migrated to the West Indian nation.
The advent of Nosh Walks means that my journeys to hidden sections of the city no longer have to be solitary. I can now wander through neighborhoods with other kindred and intrepid souls and with a savvy guide.
December 2014